Seasonal watering pauses for the winter
It's time to let the weather put the water into the rivers.
Our seasonal watering program to support the Glenelg River will return later in the year.
In the mean time, want to know why we support seasonal flows?
Mostly – there's these triple bottom line benefit: environmental, social and economic to our region.

Benefits of water releases:
support river productivity and plant growth
support healthy and abundant native fish populations
enhance water quality and reduce salinity
enable species movement between river pools and habitats
protect threatened species like the Glenelg Spiny Crayfish and variegated pygmy perch
great fishing opportunities
caring for Country and cultural values
protecting the beauty of the Glenelg River for locals and visitors
better recreation and tourism opportunities (kayaking, canoeing, swimming, camping)
fresh water for farmers who live on the river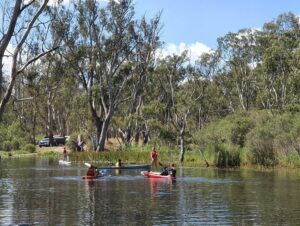 For more information on Glenelg River environmental water releases or to register for SMS updates contact Glenelg Hopkins CMA on (03) 5571 2526.
To find out more about how and why we deliver water for the environment, visit our Water for the Environment page