25 years of actions and achievements
For 25 years, Victoria's CMAs have delivered land, water and biodiversity programs that not only enhance and protect our environment but support thriving communities.
Victoria's CMAs and Melbourne Water work closely with local communities and Traditional Owners to create meaningful and lasting integrated catchment management outcomes.
It was a productive and forward thinking year where CMAs and Melbourne Water continued to deliver projects funded under Tranche 5 of the Victorian Government's Environmental Contribution, demonstrated resilience in dealing with floods and rolled out Regional Catchment Strategies.
In 2021-22, the CMAs' achievements included:
Our Catchments, Our Communities initiative supported the development of ten Regional Catchment Strategies across Victoria.
Partnering with the Australian Government through the Regional Land Partnerships program to deliver the third year for the 26 projects funded by the National Landcare Program.
Supporting communities to recover from floods by providing landscape rehabilitation services.
Continuing to on integrate community values into the planning and coordination of land, water and biodiversity management by employing 437 people – with 55% identifying as women.
100% of CMAs are engaging Victoria's Traditional Owners to play a stronger and more active role in waterway planning and programs by actively engaging Aboriginal organisations in projects, supporting Aboriginal businesses and providing training to local Aboriginal people.
Supporting approximately 600 Landcare groups and networks, plus many other community environmental groups, to undertake environmental protection and sustainable land management activities.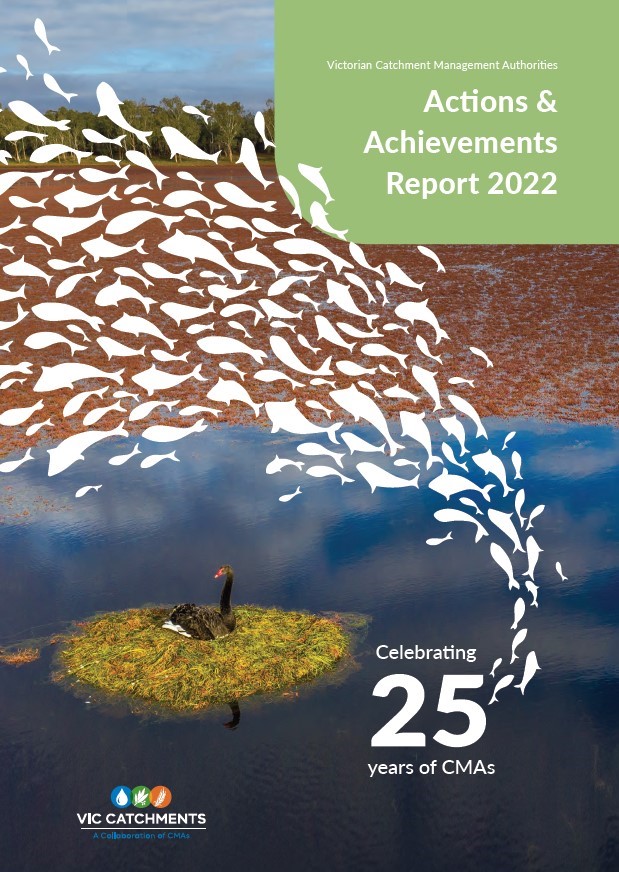 READ THE 2021-2022 ACTIONS AND ACHIEVEMENTS REPORT ONLINE (PDF)
Don't have time to read the whole report? There's a summary document that covers all the important things we've done.