Future Ready Regions
Is your farm ready for the future, if that future includes more extreme weather events?
What is the Future Ready Regions Program?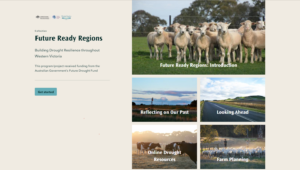 The Future Ready Regions Program provides primary producers throughout Western Victoria with a snapshot of the tools and data readily available to help plan for the adverse conditions experienced from drought.
The Glenelg Hopkins Region in Western Victoria has traditionally had some of the most reliable seasonal rainfall and climatic conditions in Australia. Of particular note, exposure to extreme weather events over recent decades have been limited to floods in 2011, 2020 and fires in 2019.
Despite the region largely 'escaping' the impacts of drought felt through the East Coast of Australia in recent years, the threat of drought finding its way to the region is real.
Over recent years, a record-breaking run of stock prices and excellent seasons have provided the perfect opportunity for all livestock producers to plan for the unwanted challenges drought can bring. Large investment in drought management by the federal and state government bodies has led to the development of some excellent resources which you will be introduced to through the Glenelg Hopkins CMA's Future Region Regions website platform.
This program/project received funding from the Australian Government's Future Drought Fund.