The Sanderling are back on our beaches
The Sanderling are home again at the Glenelg Estuary Discovery Bay Ramsar site after a mammoth journey from Arctic tundra regions.
Last summer, we ran a competition for the best photo of a Sanderling with a leg tag to win an original Jimmi Buscombe artwork of Sanderling on plantation Teak. Congratulations to Sarah Campbell for entering this winning photo!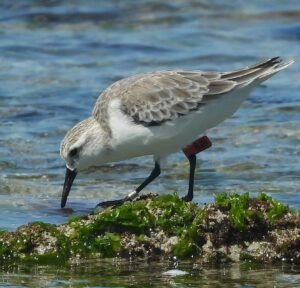 With the Sanderling returning returning, the Victorian Wader Study Group, Friends of the Shorebirds SE, BirdLife Australia, Deakin University and Glenelg Hopkins CMA are looking for Sanderling flock sightings and leg-flag sightings from anywhere in Australia.
Photos and sightings sent to GlenelgRamsar@ghcma.vic.gov.au go into the running to win a framed print of the Jimmi Buscombe original. A monthly prize is awarded to an original Sanderling photo with a readable leg-flag or best flock photo (in-flight or roosting).
We encourage leg flag sightings to be sent directly to
More information on the project can be found here:
www.ghcma.vic.gov.au/what-we-do/projects/marine-coastal-projects/sanderling-tracking-project/