Australasian Bittern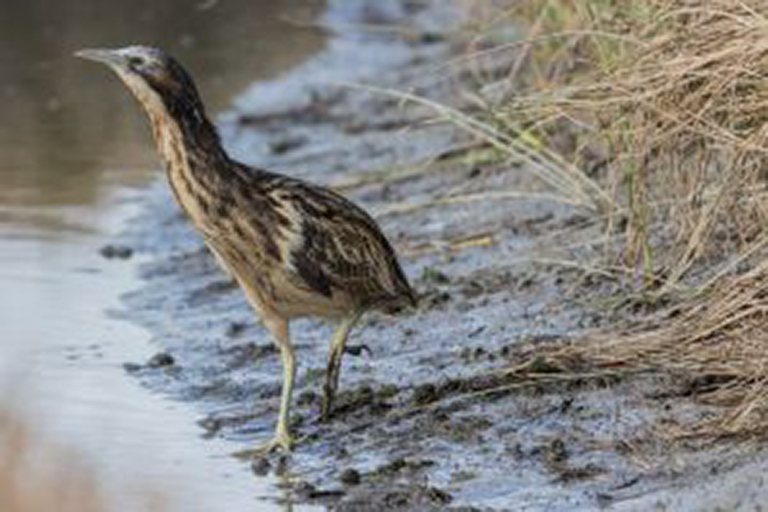 Did you know the Australasian Bittern is also known as the Bunyip Bird?
Do you have a bunyip in your backyard?
Incentive funding is available. Glenelg Hopkins CMA has funding available to support landholders to help bring back Bittern or Bunyip-bird habitat.

Follow the Bittern Recovery project here on Facebook! 
Project: Coastal Connections
Value: $2,700,000 over 5 years
Funding partner: National Landcare Program
What does a Bittern look like?
The Australasian Bittern is a large bird, standing approximately one metre tall with a body length about 75 cm.
Males (875-2085g) are heavier than females (571-1135g). They are a mostly mottled brown colour (and have been commonly known as Brown Bitterns), they are generally darker on their back, with a pale buff coloured underside heavily streaked with brown and have a white throat with dark brown streaks down the side.
They are listed as critically endangered due to their declining numbers, and their total population is thought to be around 2000 individuals. They occur in south east Australia, South West WA, Tasmania, New Zealand and New Caledonia.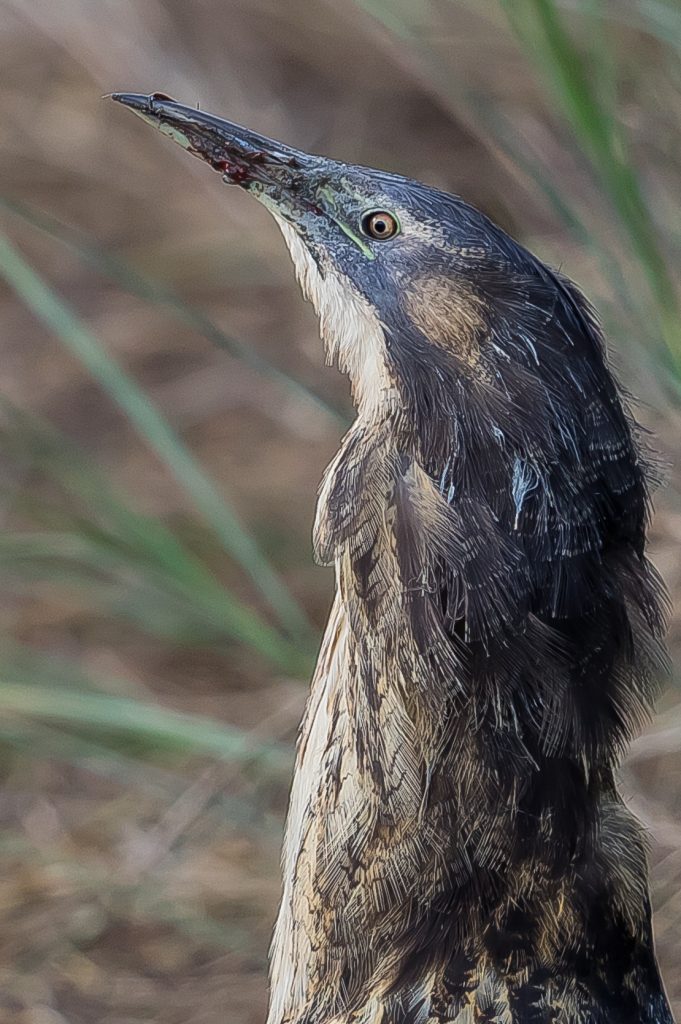 Where can I find them?
They are generally a shy, cryptic inhabitant of well vegetated wetlands and waterways, more often heard than seen, they usually occur singly or in pairs, and will usually be seen in or very near to reedbeds or stands of rushes/reeds.
They will often stand motionless, with neck and bill pointed skyward, swaying with the reeds, and slowly lower their head into the vegetation. When flushed they will usually fly slowly with a lumbered appearance a short distance before dropping down into a patch of vegetation where they will disappear from view or adopt the bill skyward pose.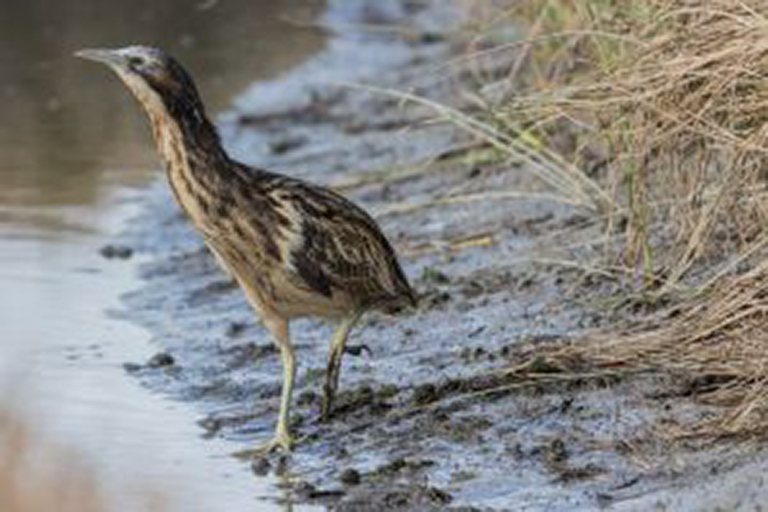 Some examples of Bittern habitat:
Major threats:
Drainage and/or water extraction
Predators e.g. foxes and cats
Grazing/livestock trampling
Invasive weeds
Shooting/hunting
Water quality
Excessive disturbance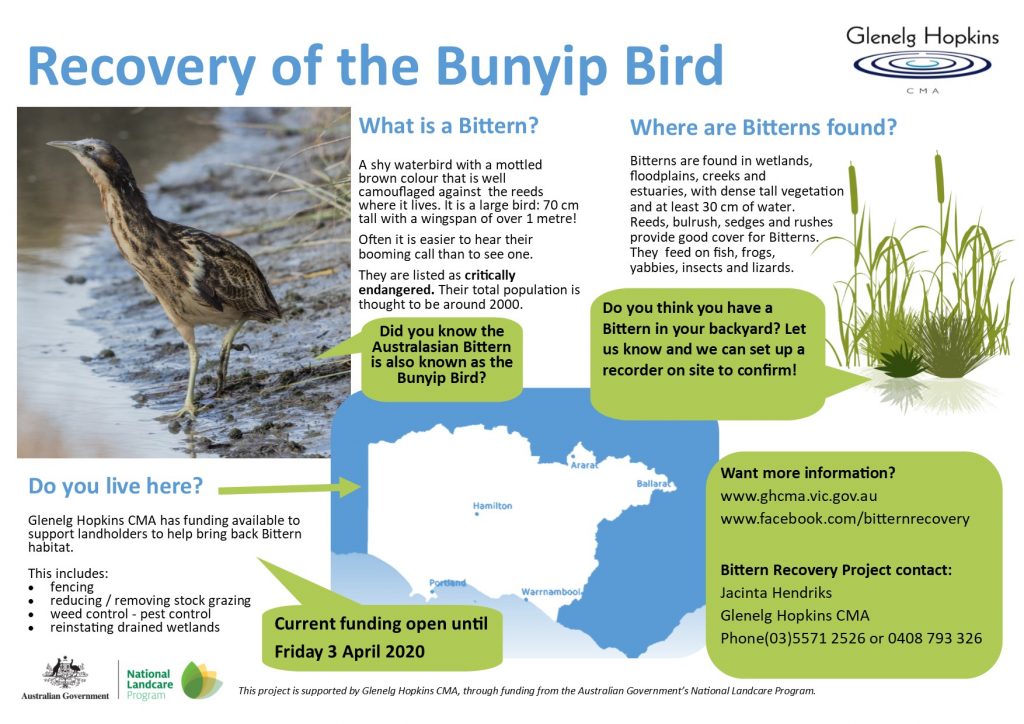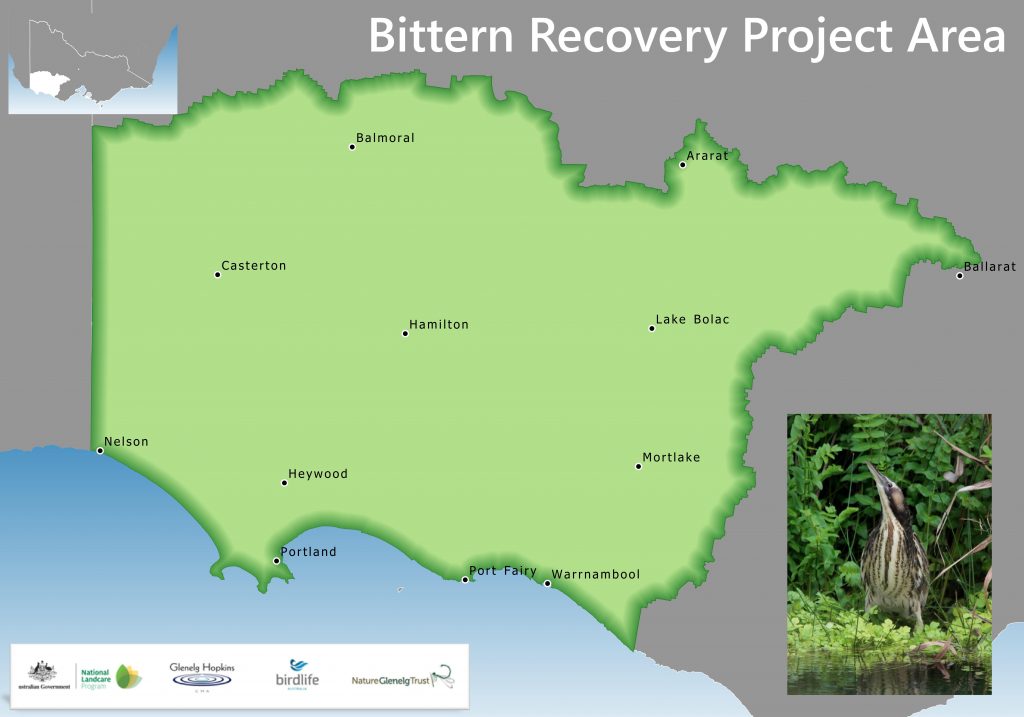 Incentive funding now available!
Glenelg Hopkins CMA has funding available to support landholders to help bring back Bittern or Bunyip-bird habitat.
Expressions of interest are NOW OPEN to private landholders within the Glenelg Hopkins catchment.
Glenelg Hopkins CMA is calling for expressions of interest from landholders to:
Protect the habitat you have – If you have wetlands or waterways with about 30 cm of water and suitable stands of rushes and reeds, funding is available to:
fence off wetlands or sections of reedbeds
reinstate drained wetlands
reduce or remove stock grazing on wetland areas
undertake weed removal and pest animal control
appropriate fire management
Our field staff will assess the habitat on your property and develop a management plan that will benefit Bitterns.
Do you have a Bunyip in your backyard?
Surveys can be undertaken on your property to confirm the presence of the Australasian Bittern.
To register your interest, contact one of the project officers listed below.

Glenelg Hopkins CMA
Jacinta Hendriks
Email: j.hendriks@ghcma.vic.gov.au
Phone: 0408 793 326
Nature Glenelg Trust
Lachlan Farrington
Email: lachlan.farrington@natureglenelg.org.au
Phone: 0401 208 717
Project Partners
This project is supported by the Glenelg Hopkins CMA with funding through the Australian Government's National Landcare Program.